China HDR dental x rays sensor with high resolution MXS-3
Specifications
1.Low expense long lifetime
2.Compatible with different brand x-ray
3.High efficiency
4.High resolution
5.Cable can be replaced
6.Made in the United Kingdom
Dental digital x-ray sensor MXS-3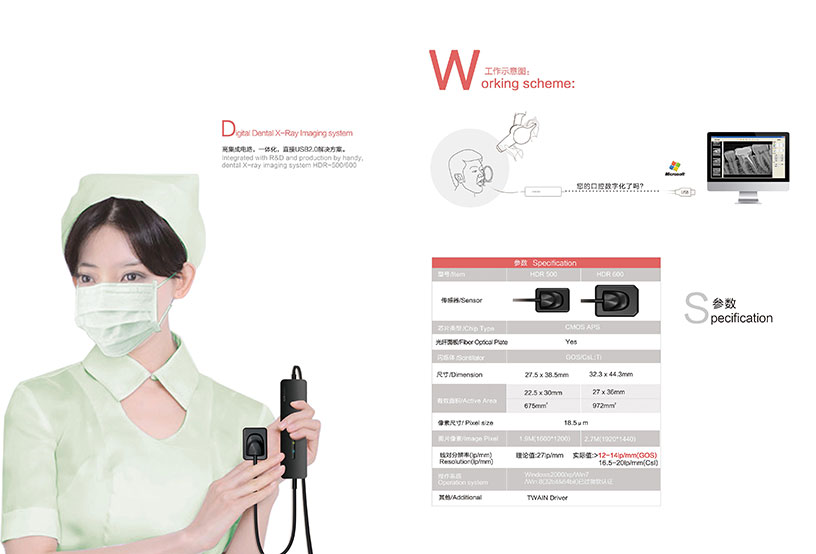 Features
1).We use high quality APS CMOS sensor, higher resolution ups to 27 lp/mm in
theoretical with different scintillator options.
2).Active area as 22.5 x 30mm for Size 1 / the worldwide average length of molar is
22mm so that we could make sure the whole teeth pix to be taken and no info lost.
3). Higher image pixels as a result of pixel size in 18.5μm; Size 1 is 1.9Mega pixels and Size 2 is 2.7Mega pixels.
4).TWAIN driver , the hardware is able to work with any other dental imaging/
Management software as long as it has TWAIN function , so no need to worry about the compatibility
5). Come with a powerful imaging software-HandyDentist with strong and useful
Processing algorithms but easy to use
6). Repair the broken cables to cost down/lower maintenance cost. HDR sensor is with
An improved extremely flexible & robust cable besides we could do cable replacement if
it really happens
7). Can cover more market (different X-ray unit conditions) needs, like for some
extremely low dose X-ray units (by poor voltage stability & Xray tube quality), HDR sensor could still workwell while some others might even not have images.
8). New launched software APP (iPhone & iPad / Android system will be available soon) to help dentists to create movable dental practice.
Software
HandyDentist software is powerful but easy to use, which is quite important to dentists.
Here' re some highlighters listed.
The warranty service you can be offered as below
1 year Warranty basis
2 or 3 years option can be chosen
Control Box
The sensor control box contains all the electronics of the sensor. The two LED light shows whether the sensor is workable
Technical Data
| | |
| --- | --- |
| Sensor | APS CMOS sensor |
| External dimension (mm) | 40×26(HDR-500) |
| Sensor Active Area | 30×22.5(HDR-500) |
| Sensor Thickness | 6mm |
| Dynamic Range | 0~4,096 |
| Power | 5V±0.5V |
| Image Transfer | USB2.0 |
| Cable Length | ≥ 3m |