High Resolution Visiodent RSV4 Dental Digital Sensor MXS-4
Features
Thanks to its exceptional resolution of 25 line pairs and the latest embedded technologies, the sensor RSV4 get radiographs of finesse and amazing definition for immediate diagnosis! Sharpness, brightness and contrast will help you perfect viewing smaller anatomical details. 30 years of experience in imaging, it cannot be invented!
An Ideal Size
Size 1.5, you will use for all application types (anterior, posterior molars ...)
Ergonomics Thought for the Patient and Practioner
1.The rounded corners and beveled sides of RSV4, give the patient a much better wearing comfort.
2.Cable located on top of the sensor, you will also facilitated positioning, vertical or horizontal.
Good durability
Designed to last, the RSV4 sensor has been strengthened and has been tested for use pushed to ensure optimum performance over time. It also comes with a removable cover that absorbs shock if dropped or pressure
Direct USB 2.0 Link
Extremely easy to use, the RSV4 just waiting to be connected to your computer via its USB Direct technology, it is ready for use. More troublesome case, the sensor is ideal for a single use or multi positions.
Original Visiodent brand RSV4 Dental Digital
X-rays Sensor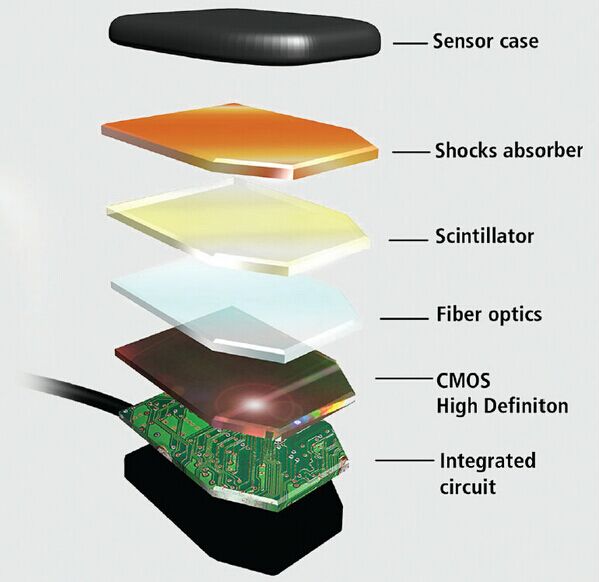 Technical Data
External Dimensions 38.7mmx29.2mmx4.95mm
Active Surface 24x33mm
Real Resolution 25lp/mm
Pixel Size 2oμ m
Pixels 1200x1650 Pixels
Connection type USB Direct Link
Sensor Cable Length 3m
Grays cale 4096