Woodpecker Dental Ultrasonic Piezo Scaler DTE-D7
Specifications

1.10 years' exporting experience
2. ISO,CE,FDA Certificated
3. Scaling,perio,endo woodpecker uds-j ultrasonic scaler
4. high quality low price

This is the DTE-D7 Ultrasonic Scaler of Woodpacker Company. it Compatiable with the SATELEC'S tip.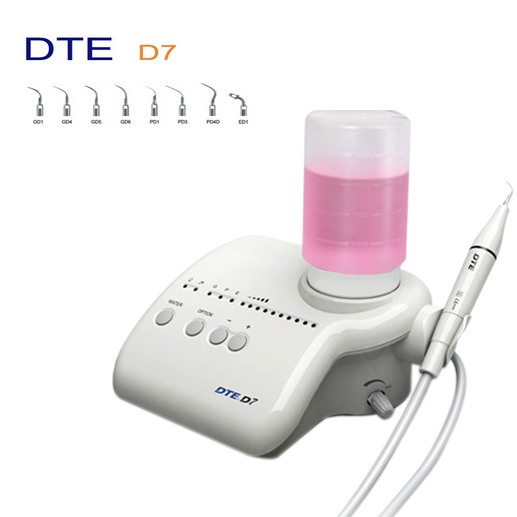 Features

1: the handpiece is cast from Titanium alloy to ensure sound mechanic function and durability.
2 :assembled with excellent piezo-ceramic, the handpiece has high and lasting power and generates little heat.
3: the cable is made from silica gel tube, soft and durable.
4 :the scaling tip is made of special material. The cavitation produced from the end of scaling tip makes the cleaning of teeth and the killing of germ easily.
5 :digitally control, mostly efficient in scaling.
6 :the scope of oscillation amplitude is wider.
7 :the new design of electric valve, controlling the water better.
8: user-friendly design, much more convenient when operating.
9:eliminating dental calculus, bacterial plague and tea scales on the teeth quickly without hurting the gum or the enamel.
10: woodpecker uds-k ultrasonic scaler:small volume, light weight, easy for operation and new shape, more beautiful.
11: the material of the detachable handpiece is made in America, the handpiece can be autoclaved to the high temperature and pressure.
12: the inner water pipe is made from antisepic material, clinical fluids, such as Hydrogen peroxide, chlorhexidine and sodium hypochlorite, etc. may be used perfectly under the mode of auto-water supply system. So that the performance of perio and endo is improved dramaticly.
13: two modes of water supply: purified water from outside or auto water supply.
14: compatible with SATELECs handpiece and tips.
15: CE and FDA certificated.
Technical Specification

Power Input:100V-240V~50Hz/60Hz 1.2A (max)
Main Unit Input:30VDC 1.3A
Output primary tip vibration: excursion≤100μm
Tip vibration Frequency: 28kHz±3kHz
Output half-excursion:force<2N
Output Power:3W~20W
Main unit fuse:250VT 1.6AL
Adapter fuse:250VT 2.0AL
Water Pressure:0.1bar to 5bar (0.01MPa~0.5MPa)
Main Unit Weight:1.35kg
Adapter Weight:0.3kg
Dimension:237mm*206mm*95mm

Packet including

1 DTE D7 Ultrasonic scaler
2 HD-7H handpiece
11tips (1*GD1,1*GD4,1*GD5,1*GD6,1*PD1,1*ED1,1*PD3,1*PD4D,1*SBD1,1*SBD2,1*SBDL)
1 torque wrench
1 charger
1 foot switch
2 water bottle
1 hose.
1 Operation manual